OUR SERVICES
For Delivery of Large Appliances Please read Information Below
Please call
03448 111 211 for any alterations or information regarding your order
SPEED OF DELIVERY
The time period from order to delivery is dependent on ordering methods along with stock and postcode coverage and in some circumstances can be as soon as next day. We will always endeavor to offer a swift delivery whilst still considering our environmental impact.
If our retailers require our booking service, we then allow for order transfer periods which can vary by retailer. Here we suggest 3-5 days as an estimated delivery period for stocked in appliances.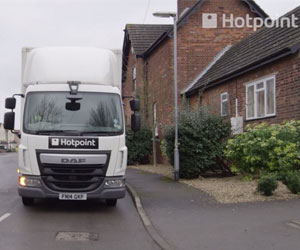 ---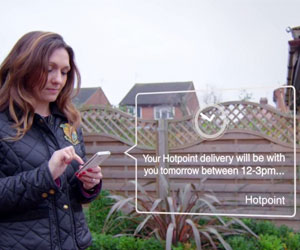 SPECIFIC TIME OF THE DAY
Working closely with our retailers to create a delivery solution to meet today's customer's needs we have the flexibility to customise delivery offerings. In certain circumstances this can include a timeslot offering at point of order or even offering through our dedicated booking services, allowing the customer freedom to manage their day around the delivery.
All consumers are updated with their time slot early evening the working day before delivery. We further improve on this by providing 1 hour pre-arrival notification to advise the driver is on his way.
---
REMOVE & RECYCLE 100%
Our award winning recycling activities include:
Unpacking the product at the consumer's home and ensuring that all of the packaging is recycled. We have specifically designed all of our packaging to be 100% recyclable. We separate the 4 constituent parts (polystyrene, plastic, wood and cardboard) at the depots then bale and compact the materials at our hub. These clean high quality materials are then sent directly to our recycling partner so they can be put back into the raw material streams.
Collecting the old product which is officially counted as WEEE (Waste Electrical and Electronic Equipment). These products are separated into the correct waste flow at our local depots and send directly to government approved WEEE recycling plants. As a White Goods manufacturer, we take our WEEE obligations very seriously and actively encourage our customers to use the most environmentally friendly recycling scheme available in the UK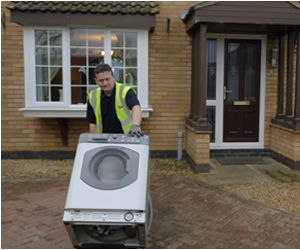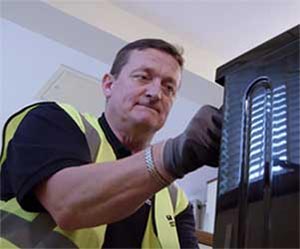 CONNECT AND TEST
Our delivery teams are fully trained and continually assessed at our dedicated, accredited, industry leading training academy. This academy ensures our delivery teams achieve and maintain the very highest standards. Whether it is a simple refrigerator connection or a more challenging electric cooker connection, we are always ready to ensure the customer experience is the best that it can be.
See "Our connections" page for further detail on the connection services.